Join us in June: Resistance Campaign #COUNTERIT
17.5.2021
Supporting gender equality and efforts towards improving equality are often met with resistance. We want to raise awareness of these resistances but especially show how we can counter them.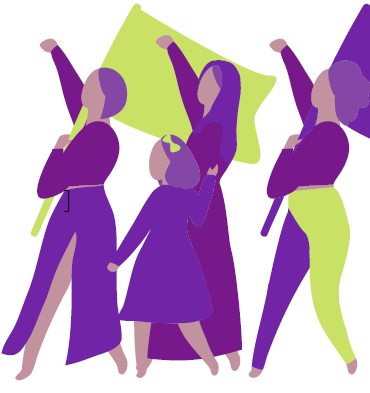 Resistances to gender equality can take many forms. They can consist of a complete denial of the problem, disinterest in the issue, inaction, or even complete ideological opposition. They could be cultural resistances, social resistances, individual, institutional, implicit and explicit.
SUPERA, GEARING Roles, GE Academy, CALIPER, and GENDERACTION have joined forces to launch a #COUNTERIT campaign on social media. Throughout the campaign, we will be sharing general, anonymised and unidentifiable examples of resistances and focus on methods and ways to overcome them.
Join us!

Share between June 21 and 25 your thoughts on resistances on your favorite social media. Tell us in any language about what you did to counter them, or what you think we could/should do as a society to stop them. Don't forget to use the hashtag #COUNTERIT. You can download the template and create graphics.
We are looking forward to hearing from you under the hashtag #COUNTERIT!





You may have seen our #COUNTERIT campaign to celebrate it we are launching a 🎉 competition! 🎉

🙌🙌🙌🙌🙌

Five winners will be picked for two prizes: The Research Prize (3 winners) and Creative Prize (2 winners)!

Check out the terms and conditions below in our poster! ⬇️⬇️⬇️ pic.twitter.com/Ww9M0LH2mR

— GEARING-Roles (@GearingRoles) June 28, 2021
Another inspiring source on #resistance to #GenderEquality provides @eurogender. The 3 main messages on it are following:

📌Resistance is part of any change process
📌Resistance can be used to promote change
📌There are ways of dealing with resistance

👉 https://t.co/365SJD9ZbC pic.twitter.com/rq9Y7727k5

— GENDERACTION (@GENDERACTION_EU) June 25, 2021
How to adress #resistances to #GenderEquality in two stages explaines @lucyferg1 @MyYellowWindow @GearingRoles in this @GEAcademy_eu video (from 25:00 and onwards). worth watching! 👉https://t.co/g0rs6Kg28K

— GENDERACTION (@GENDERACTION_EU) June 24, 2021
#Resistance to #GenderEquality? Join us and share your ideas about how to #COUNTERIT! 👉https://t.co/BXzK9WoifP pic.twitter.com/C9DdGRyqjU

— GENDERACTION (@GENDERACTION_EU) June 24, 2021
#Restistances to #GenderEquality in #research can take many forms. Have a look at very inspiring @SpearProject blog on this topic: https://t.co/O3dQpTjICz #COUNTERIT pic.twitter.com/ASNFfbKqD3

— GENDERACTION (@GENDERACTION_EU) June 23, 2021
The picture attached shows the forms of #resistance to #GenderEquality according to @VicHealth. And here are 13 very inspiring and helpful steps how to tackle it 👉https://t.co/gG2Y6UquM1 #COUNTERIT pic.twitter.com/xw1oX8dXFx

— GENDERACTION (@GENDERACTION_EU) June 22, 2021
Supporting #genderequality is sometimes met with resistance. We want to show how we can #COUNTERIT. Join us and share between June 21 and 25 your thoughts on resistances on your favorite social media https://t.co/BXzK9WoifP pic.twitter.com/nFDnMwmWxJ

— GENDERACTION (@GENDERACTION_EU) June 21, 2021
What does @marcela_linkova say if someone claims: "There is only one #science: good or bad. It does not matter who does it, a #man or a #woman"? See the picture 👇

More about the #resistance campaign #COUNTERIT on our web site 👉 https://t.co/BXzK9WoifP pic.twitter.com/whVEYT966V

— GENDERACTION (@GENDERACTION_EU) June 21, 2021
Are #resistances to #GenderEquality measures inevitable? Vote and comment on your choice, please. #COUNTERIT #research

— GENDERACTION (@GENDERACTION_EU) June 21, 2021
How to counter #resistances to #GenderEquality in #research? @festaproject´s Handbook On Resistance To Gender Equality In Academia might be very helpful 👉 https://t.co/IoXdQAG3jq #COUNTERIT pic.twitter.com/xXvrTHbm88

— GENDERACTION (@GENDERACTION_EU) June 21, 2021
The joint campaign of @SUPERAproject @GearingRoles@GEAcademy_eu @CaliperEu & @GENDERACTION_EU on #resistances to #genderequality starts on Monday! Join us 👉https://t.co/BXzK9WoifP #COUNTERIT pic.twitter.com/KMpx6cyWUg

— GENDERACTION (@GENDERACTION_EU) June 16, 2021